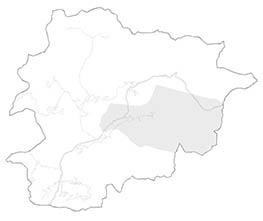 The Andorra Sotheby's International Realty office is located in Encamp, a strategically positioned town in the very heart of the Principality of Andorra.
We invite you to discover our wide selection of houses for sale in the Parish of Encamp: properties in the very best locations, houses with quaint charm, luxury semi-detached houses and exclusive chalets.
Encamp, the heart of Andorra
Located only 10 kilometres away from Andorra La Vella, Encamp is a parish with very unique attractions and very good communications, just steps away from the main gateways to the country. Encamp is made up of two main towns: Encamp and Pas de la Casa, the latter of which sits at the French border.
Despite its proximity to the capital, this parish is positioned at a nice distance from the hustle and bustle of the country's different shopping and tourism districts.
The Parish of Encamp is an example of the perfectly harmonious coexistence of modern life and tradition, as can be seen in its architecture, urban development and different buildings.
In the old quarters of Encamp, 12th-century architectural gems sit alongside modern 21st-century buildings.
For its part, Pas de la Casa, which is considered to be one of the most important shopping districts in the country, is a town that has found the way to adapt to and keep in step with the new challenges of the tourism industry, particularly thanks to its modern infrastructures associated with the world of skiing.
Both Encamp and Pas de la Casa are located at the foot of the Grandvalira ski slopes.
Main points of interest in Encamp
Grandvalira: ski slopes
Church of Santa Eulàlia d'Encamp
Church of Sant Jaume dels Cortals
Museum of Sacred Art
Les Bons Historical Complex
Snow Driving Centre
Check with Andorra Sotheby's International Realty for the wide array of flats for sale in Encamp. Each and every flat, holiday flat, penthouse and duplex apartment that we have for sale in Encamp is a magnificent property specially designed for extraordinary lives.
And if necessary, we will also offer you a team of professionals who will be happy to inform you of all the advantages of investing in Andorra, including the legal, tax and financial areas.
You may also be interested in buying a house in Ecamp