Buying a flat in Sant Julià de Lòria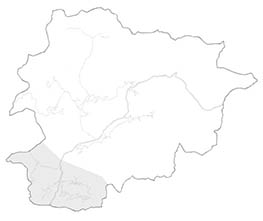 Andorra Sotheby's International Realty offers you the best flats and holiday apartments for sale in the best areas of Sant Julià de Lòria.
Sant Julià de Lòria, nature and relaxation, with more moderate temperatures
The Parish of Sant Julià de Lòria is the entrance gate to the Principality of Andorra, from Spain. Located just 8 kilometres from the Catalan border, this parish is known for having the lowest average altitude in the country.
With an average altitude of 1000 metres, Sant Julià de Lòria enjoys a more moderate climate in relation to the rest of the country.
Sant Julià de Lòria is located on the right bank of River Gran Valira and boasts a diverse cultural, recreational and sports supply that is complete with amazing shopping centres and a wonderful town development that is in total harmony with the magnificent natural setting that surrounds it.
Main points of interest in Sant Julià de Lòria
Naturlandia
Chapel of Sant Mateu
Church of Sant Serni de Nagol
Bridge of La Margineda
Tobacco Museum
Andorra Sotheby's has an extensive and diverse list of flats, holiday flats, penthouse apartments and duplex apartments for sale in Sant Julià de Lòria that is sure to meet the needs of all of our purchasing customers. Moreover, real estate investors can enjoy the personalised guidance of our expert team in legal, tax and financial matters. They will be delighted to inform you of all the advantages to investing in Andorra.
You may also be interested in buying a house in Sant Julià de Lòria