Buying a flat in La Massana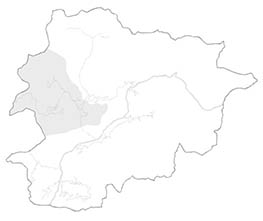 Andorra Sotheby's International Realty offers a selection of properties for sale in the residential districts of La Massana and in its most central areas. Our portfolio of properties includes enchanting flats, spacious holiday flats, fully equipped modern duplex apartments, and country-style and modern penthouse apartments with exquisite finishes.
La Massana, charm in the valleys of the north
The Parish of La Massana, located in the westernmost side of the country, houses the country's highest peak, the Alto de Comapedrosa, which towers at an altitude of 2942 metres.
La Massana is a highly valued place to purchase a flat, whether as a full-time residence or as a second home. The wide array of businesses, services, entertainment, sports activities and hotel, catering and restaurant establishments in these towns make La Massana an irresistible destination.
The charm of this parish resides in the different towns that make it up: La Massana (capital), Sispony, Anyós, L'Aldosa, Arinsal, Pal and Erts. Not to be forgotten is its Romanesque legacy, which can be seen in its streets and trails, where you will discover architectural gems that date back to the 10th century.
Main points of interest in La Massana
Vallnord: ski slopes
Bridge of Sant Antoni de la Graella
Church of Sant Joan
Rull House
Church of Sant Cristòfol
La Farga Rosell Museum
Museum of the Comic
Andorra Sotheby's International Realty has a broad base of clients, including both buyers and sellers, whom we guide personally for the selection of the most suitable properties. Moreover, we have an area specialised in consultation services for foreign real estate investors who need information or wish to carry out legal, tax or financial formalities. Do not hesitate to contact us. We will be delighted to assist you.
You may also be interested in buying a house in La Massana