Buying a house in La Massana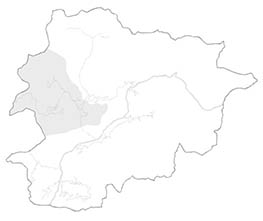 Andorra Sotheby's International Realty offers an exquisite selection of properties for sale in the most exclusive residential districts of La Massana. Our portfolio includes luxury chalets, estates with panoramic views of the valley, quaint semi-detached houses and modern luxury properties with the finest finishes.
La Massana, charm in the valleys of the north
Sitting on the west side of the country, La Massana is one of Andorra's high-mountain parishes and the location of the country's highest peak, the Alto de Comapedrosa, which towers at an altitude of 2942 metres.
The charm of this parish resides in the different towns that make it up, as well as in its Romanesque legacy, which will take you back to the Europe of many centuries ago: La Massana, Sispony, Anyós, L'Aldosa, Arinsal, Pal and Erts.
La Massana is coveted as a place for both a second home and a main residence. Also worthy of note are the many international companies that have recently opened offices here. The wide array of businesses, entertainment, sports activities and hotel, catering and restaurant establishments in these towns make La Massana an irresistible destination.
Nature, amazing views, peace, quiet and privacy are just a few of the advantages of living in such an idyllic place.
Main points of interest in La Massana
Vallnord: ski slopes
Bridge of Sant Antoni de la Graella
Church of Sant Joan
Rull House
Church of Sant Cristòfol
La Farga Rosell Museum
Museum of the Comic
We invite you to contact Andorra Sotheby's International Realty. Our team of agents will be delighted to assist you in your decision to purchase a home in one of Andorra's most charming parishes. And if you wish, we also have an entire team of professionals specialised in legal, financial and tax issues, who can guide you and help you to assess all the advantages of investing in Andorra.
You may also be interested in buying a flat in La Massana