Buying a house in Escaldes-Engordany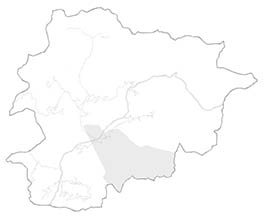 Andorra Sotheby's International Realty specialises in homes for sale in Escaldes-Engordany, one of the most famous parishes in Andorra and an ideal place to buy a property, whether as a main residence or as a second home.
In addition to the houses for sale in Escaldes-Engordany, there is also a wide array of homes for year-round residenceto complete the wide array of properties that we offer at Andorra Sotheby's International Realty.
Escaldes-Engordany, growth by leaps and bounds
The second most populated parish in the Principality of Andorra is without a doubt one of the most booming ones. Formed by two urban centres that were originally separate, Engordany (the older one, which has been inhabited since the 1st century BC) and Escaldes (the more modern of the two), this parish has always been closely tied to the use of the local hot springs.
For some time now, the exploitation of spa tourism, the flagships of which are Caldea and the Inúu wellness centre, has given rise to an exclusive tourism industry that is complemented by a unique shopping district along the main avenue, Avenida Carlemany.
Escaldes-Engordany offers its residents a dynamic and modern lifestyle, yet without losing sight of the natural and cultural wealth that typifies the parish.
Andorra Sotheby's International Realty has a diverse list of homes for sale in Escaldes-Engordany, ranging from traditional chalets that sit along the slopes of the mountains, with breathtaking views, to modern and elegant houses in the heart of the town.
Main points of interest in Escaldes-Engordany
Caldea
Church of Sant Pere Màrtir
Church of Sant Miquel de Engolasters
Lake Engolasters
Valley of Madriu-Perafita-Claror
International Festival of the Colours of Music
At Andorra Sotheby's International Realty, we will be delighted to offer you advice and ideas on how to purchase a home in Escaldes-Engolasters. You will have our commitment and total discretion when it comes to taking the best decision. Moreover, all of our clients enjoy the guidance of professionals specialised in legal, tax and residency permit issues and can guide you and help you to assess the advantages of investing in Andorra.
You may also be interested in buying a flat in Escaldes-Engordany