Andorra Sotheby's International Realty and Rafael de La-Hoz: A corporate and strategic country alliance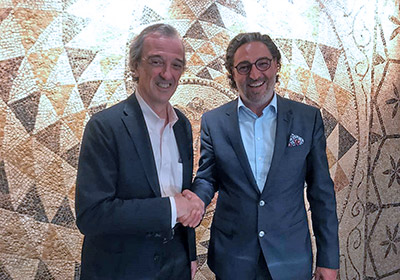 In the context of the global international market, we have established a strategic country alliance with the renowned group of architects Rafael de la-Hoz, an alliance that goes beyond a frequent collaboration between companies, looking forward to innovating the real estate market of the Principality of Andorra, through exclusive design projects.
Rafael de la Hoz Arquitectos studio, a pioneering firm with a worldwide presence and almost 100 years of experience in the architectural design sector, has joined professional synergies with Andorra Sotheby's International Realty, our prestigious international brand of exclusive properties for unique lifestyles, in order to satisfy the demands of all our clients.
The main objective is to develop together unique real estate, residential, retail and hotel projects, based on a refined, inspired in an elegant, sustainable and exclusive conceptual design, towards making the Principality of Andorra a more attractive country, creating buildings that are integrated into our landscapes and into Andorra's spectacular nature.
This alliance will enhance Andorra's growth both nationally and internationally through the development of new real estate projects that will bring along a global exposure to our country.
With more than 500 projects in more than 20 countries, Rafael de la-Hoz is committed to this collaboration with Andorra Sotheby's International Realty, which together are committed to designing buildings that deliver a high value and prestige to our clients.
Design, technology and research converge to create unique, innovative spaces along with sustainable construction and high energy efficiency, being Ordino Residential Mountain Resort the first joint project.
This exclusive project is the result of a modern re-interpretation of traditional Andorran architecture, which, far from being built as a conventional block of housing facilities, plans an exclusive residential community around a common garden.
We are two world-renowned brands, committed to the demands of our customers and the sustainability of our planet.