Buying a flat in Escaldes-Engordany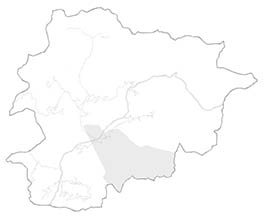 We invite you to come and see our listings of flats for sale in Escaldes-Engordany, one of the most frequently chosen destinations for those who invest in Andorra.
Modern and centrally located flats, luxury penthouses in the highest areas with views over the valley, duplex apartments in towns close to Lake Engolasters. The list of properties for sale at Andorra Sotheby's International Realty meets all the needs of our clients.
Escaldes-Engordany, growth by leaps and bounds
The second most populated parish after Andorra la Vella is the result of the union of two towns with a great history in the Principality of Andorra: Escaldes (the more modern of the two, associated with tourism thanks to its hot springs) and Engordany (the older one, which has been inhabited since the 1st century BC).
The Parish of Escaldes-Engordany has been in constant development and has kept up with the standards of Europe's top cities. Its city centre is home to emblematic sites including Caldea, an internationally famous spa centre, and the magnificent wellness centre Inúu, the leading temple of relaxation and wellness in Southern Europe.
This is completed by a shopping district that sprawls along the main avenue, Avenida Carlemany, featuring the world's top luxury designer brand shops.
In Escaldes-Engordany, Andorra Sotheby's International Realty has flats for sale that are sure to meet the needs of every lifestyle: modern and dynamic, in contact with nature and outdoor activities, etc.
Main points of interest in Escaldes-Engordany
Caldea
Church of Sant Pere Màrtir
Church of Sant Miquel de Engolasters
Lake Engolasters
Valley of Madriu-Perafita-Claror
International Festival of the Colours of Music
Please check our selection of flats for sale in Escaldes-Engordany or contact one of our real estate agents. We will be delighted to assist you. And if you need further assistance, we also have a department specialised in legal, tax and financial consultation services that will inform you of all the steps, formalities and requirements involved in making your investment in Andorra.
You may also be interested in buying a house in Escaldes-Engordany