Buying a house in Sant Julià de Lòria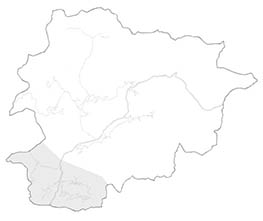 At Andorra Sotheby's International Realty, you will find a wide selection of homes for sale in Sant Julià de Lòria, the parish that sits just at the entrance gate to Andorra from Spain.
We have an extensive portfolio of outstanding properties, including semi-detached houses, cosy country houses in very peaceful residential areas and sensational chalets full of enchantment.
Sant Julià de Lòria, nature and relaxation, with more moderate temperatures
Sitting just barely 8 kilometres from the border of Catalonia, Spain, Sant Julià de Lòria is the entrance gate to the Principality of Andorra from the neighbouring country.
Sant Julià de Lòria has an average altitude of 1000 meters, giving this parish a milder and more pleasant climate than those of the other parishes of Andorra.
The Parish of Sant Julià de Lòria is made up of a number of subdivisions: Fontaneda, Auvinyà, Juberri, Bixessarri, Nagol and Certers, as well as quaint small towns such as Aixovall, Aixirivall and Llumeneres.
Located on the right bank of River Gran Valira, Sant Julià de Lòria boasts an alluring cultural, recreational and sports supply that is sure to be tempting for anyone who decides to purchase a home in Andorra.
Main points of interest in Sant Julià de Lòria
Naturlandia
Chapel of Sant Mateu
Church of Sant Cerni de Nagol
Bridge of La Margineda
Tobacco Museum
Do not miss out on the opportunity to invest in Andorra and purchase the home of your dreams. At Andorra Sotheby's International Realty, we will be delighted to assist you and guide you through all the formalities and paperwork necessary to invest in Andorra. In addition to our team of real estate agents, we have a department specialised in legal, tax and financial consultation services that will provide you with all the information you need on the advantages of investing in Andorra.
You may also be interested in buying a flat in Sant Julià de Lòria